Doppelgänger
Concerto for Two Violins and Chamber Orchestra, by David Dzubay
(2000)
Duration: 15 minutes
Program Note:
Mary Shelley's Frankenstein and Robert Stevenson's Dr. Jekyll and Mr. Hyde both have as central characters a doppelgänger, or ghostly counterpart of a living person. In music, we have Schubert's haunting song, Der Doppelgänger.

When asked to write a double concerto for co-concertmasters, using "doppelgänger" as the title and central theme quickly came to mind. The two soloists are in essence each other's doppelgänger, which they perhaps gradually grasp as the music progresses. In fact, there is an overall arch, with the soloists closely doubling each other at the beginning of the work, often playing exactly the same music, then gradually separating and developing independent lines; then near the end of the work, closing in on each other, culminating in a final chase.

There are numerous other ghostly "doublings" in the music, from meter (mostly 2/2), tempo (88, 66, 99 etc.), and all manner of musical imitation and shadowing, to the large-scale architecture of the work. A central chord progression is derived from the word doppelgänger itself. Centered on the pitch D, this progression is used in fragments throughout the work, and in complete form near the end.

Though in one continuous movement lasting about fifteen minutes, Doppelgänger divides into four parts, as follows:

PART I [2:12] Double Introduction – ghostly, frightening (a fast, quiet, scurrying blur - "Who's there?!?")...ominous, dark (a slow passage, hinting at the central chord progression and presenting a contrasting melodic theme).
PART II [3:25] Fast - confident, playful...increasingly anxious...frantic.
PART III [5:24] Slow – alarmed, struggling...calming...resigned, expressive [cadenza 1]...searching...Realization!...expressive.
PART IV [3:13] Fast – dueling [cadenza 2]... increasingly anxious...frantic...chase.
- David Dzubay
Doppelgänger was commissioned and first performed by the Carolina Chamber Symphony on October 7, 2000, with Robert Franz (Conductor), Corine Brouwer and Brandon Christensen (Solo Violins).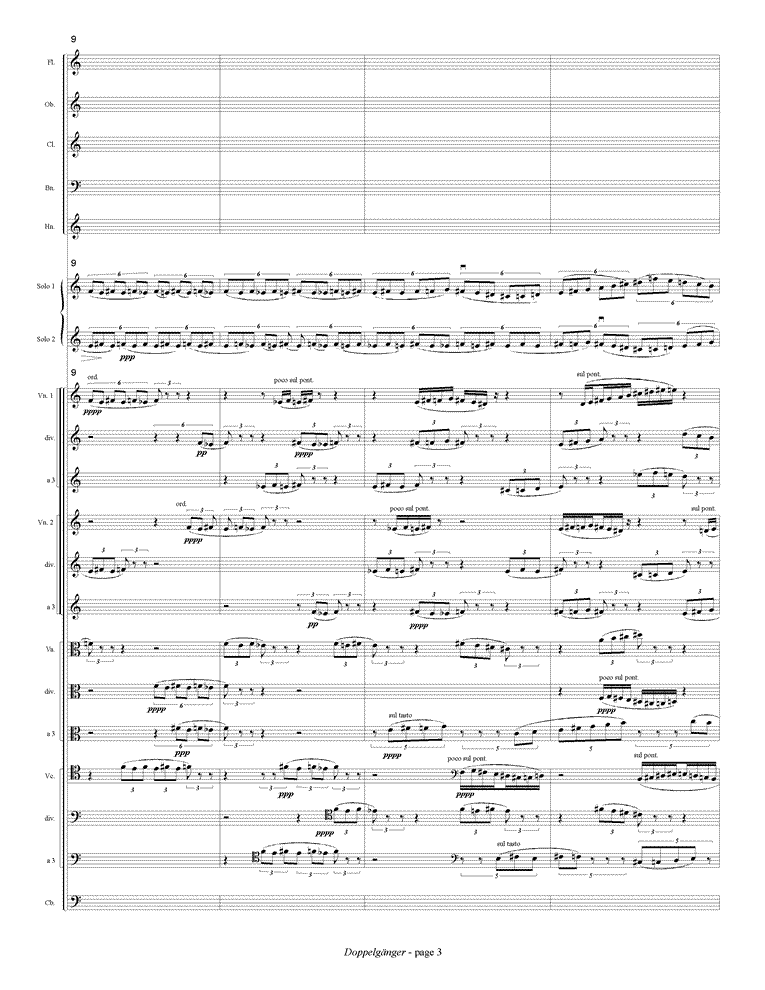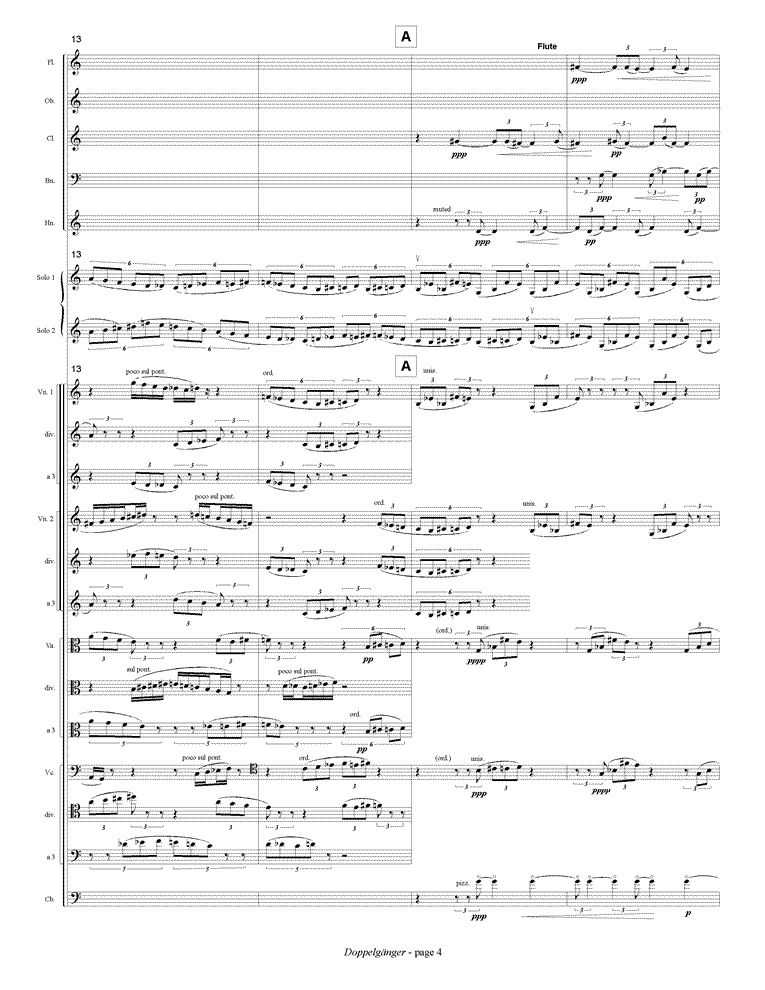 ---
Last updated: 03-Jun-2007
URL: http://mypage.iu.edu/~ddzubay/pronovamusic/notes/doppelganger.html
Comments: ddzubay @ indiana . edu
Copyright 2004