Roll
for wind ensemble, by David Dzubay
(2004)
Duration: 3:15
Grade Level: 5
Instrumentation:
Wind Ensemble : Piccolo (=Fl.3), Flute 1,2, Oboe 1,2, Bassoon 1,2, Eb Clarinet, Bb Clarinet 1,2,3, Bb Bass Clarinet, Alto Saxophone 1,2, Tenor Saxophone, Baritone Saxophone, Bb Trumpet 1,2,3, Horn 1,2,3,4 , Trombone 1,2, Bass Trombone, Euphonium, Tuba, Timpani, Percussion 1,2,3, Piano, String Bass (opt)
Program Note:
Roll is the third movement of my work, Shake Rattle & Roll, and may be played alone as a fanfare. Around the holidays each year while I was growing up, my father would get out some old boxes of music saved from his time playing tenor saxophone in an Army dance band in Colorado. Our gang made for a rather motley ensemble, with an assortment of instruments that didn't quite make up a full dance band, but we had fun. One of the charts dad had an arrangement of was the Big Joe Turner hit, "Shake, Rattle and Roll" - written by Charles Calhoun. I decided to use this title while composing the first movement, which has a lot of 'shaking' in it, but apart from the shared title this composition for wind ensemble has little in common with that classic tune. Well, there is a hint of the tune's characteristic rhythm in the first movement, which also has a bit of a jazz feel to it, but that's about it. Those three powerful words just struck me as being a good outline for a three movement composition, so I ran with the idea. (David Dzubay)
Premiere:
The first performance was given on March 12, 2005 by the Metropolitan Wind Symphony, Lawrence Isaacson, Music Director. (As part of the larger work, Shake, Rattle & Roll). Roll has not yet been performed on its own.
Performance Notes:
Starting at measure 89, the brass should be careful not to sustain an unrelenting sound, so that the lines may be heard clearly.
---
Score Samples (first and last page): mp3 2288k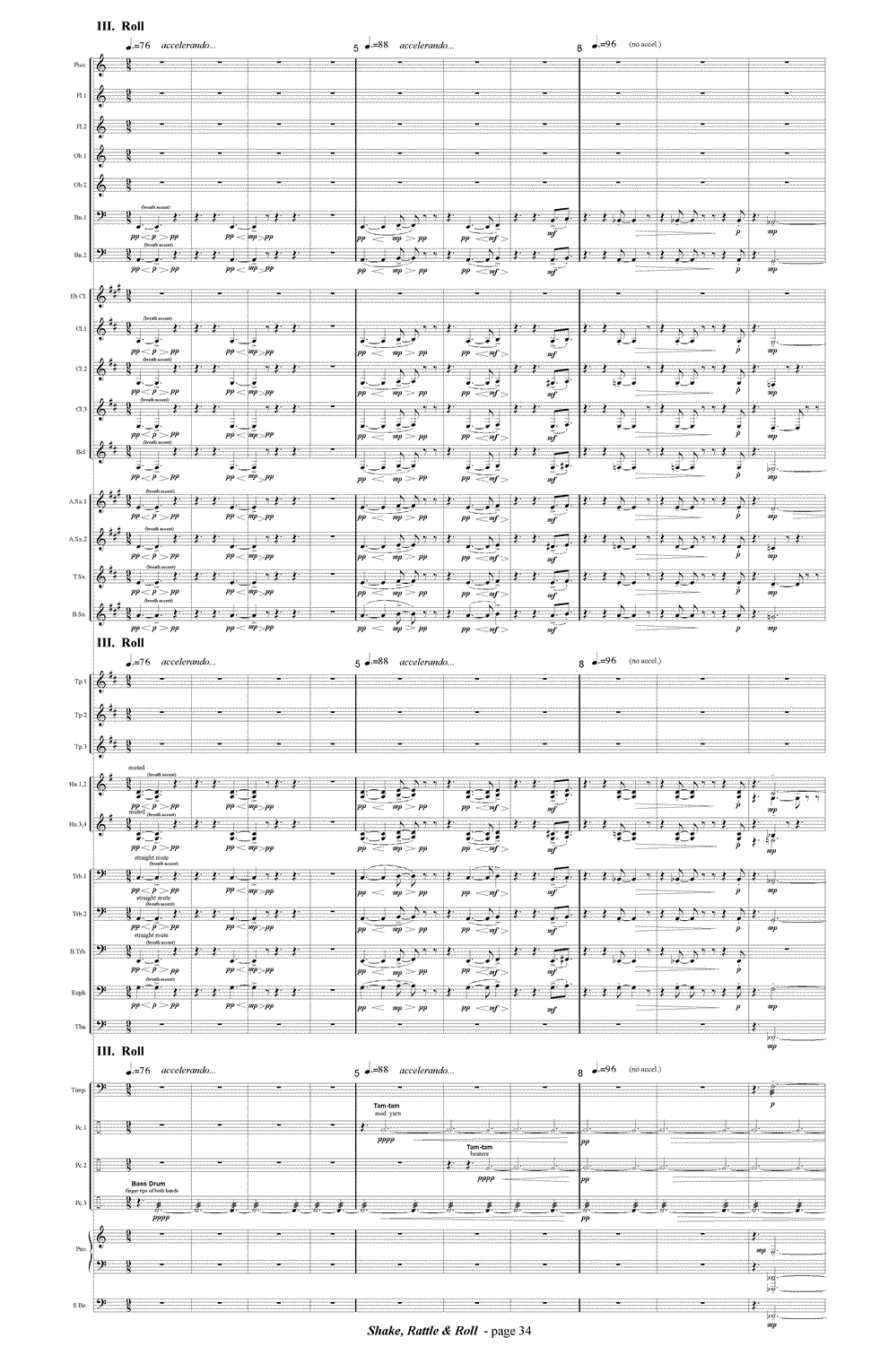 ---