Acrostic Variations
(1998) for brass quintet
Aubade, Light, Lyric, Agile, Nocturne
Drone, Elusive, Ablaze, Noble, [Coda]
duration: 11 minutes
premieres:
October 31, 2009, ONIX, Mexico City
April 21, 2009, IU New Music Ensemble, Bloomington, IN
audio (arrowheads navigate tracks):
Perusal Score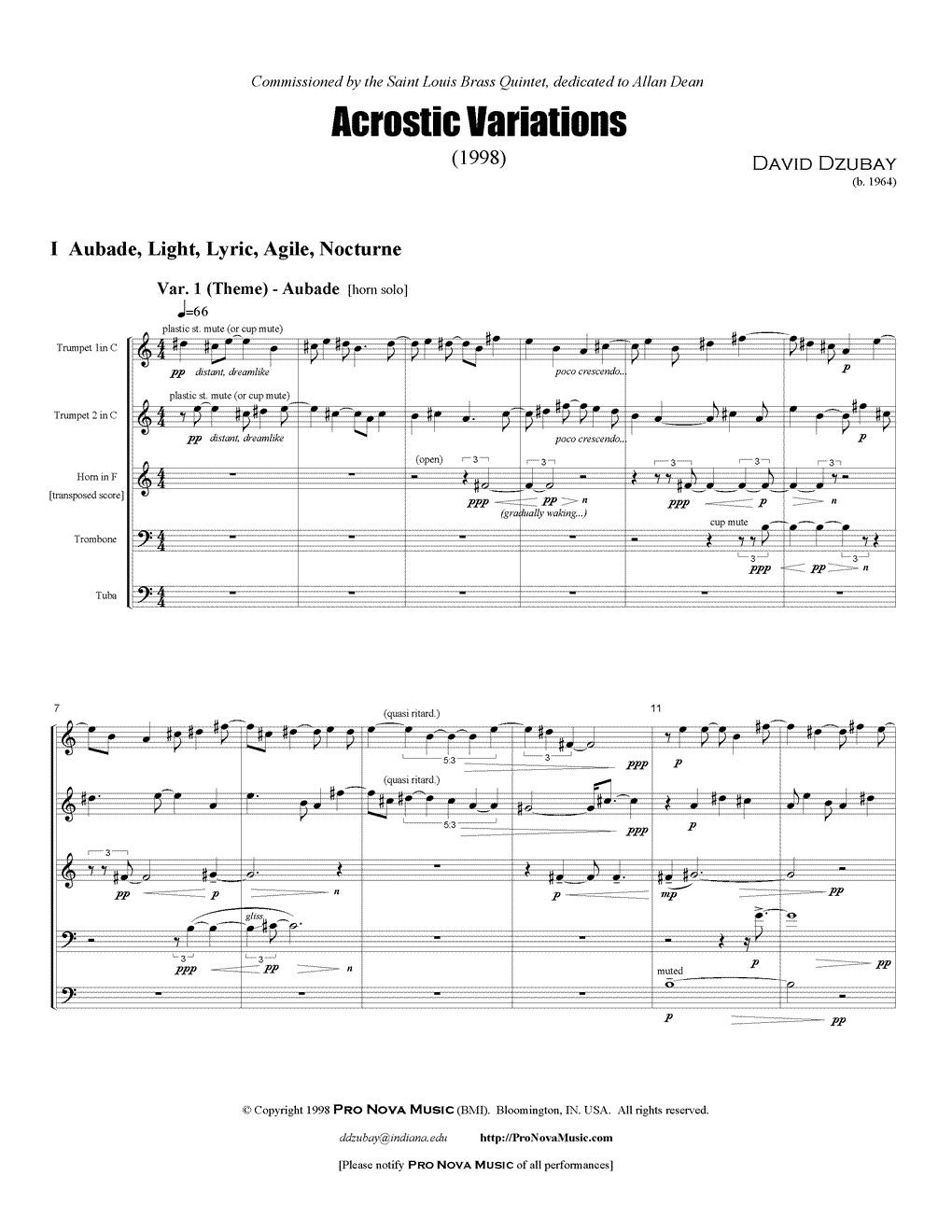 Program Note
Commissioned by the Saint Louis Brass Quintet
Acrostic Variations was commissioned by the Saint Louis Brass Quintet, and is dedicated to Allan Dean, a member of that ensemble. It was my very good fortune to study trumpet with Allan Dean for five years during college, as he was a wonderful mentor and was incredibly important to my musical development. I am thrilled to have had the opportunity to compose a work for him and this terrific quintet of musicians.
Acrostic Variations is a set of ten variations cast in two movements lasting just over ten minutes. The first variation (Aubade) is the longest, and serves as the 'theme', in that it provides the basic musical material for the composition. Beyond the melodic ideas played by the horn in the Aubade, other important thematic elements include the accompanying eighth note line in the trumpets, groups of five evenly spaced articulations (the number 5 is used in many ways in the music), and a pervasive use of lydian and phrygian pentachords.
The first movement is mostly slow and is framed by the Aubade, greeting the dawn, and the Nocturne. The variations in this movement feature members of the quintet in turn: horn, tutti, trumpets, trombone, and tuba.
The second movement is quite fast, and while still presenting variations of the Aubade, also focuses on some new material presented in the Drone variation.
The titles of the variations begin with the letters from Allan Dean's name (except for the Coda), thus the title Acrostic Variations. The music itself is also somewhat reflective of what I like about Allan's playing, particularly regarding lyricism and agility.
Recording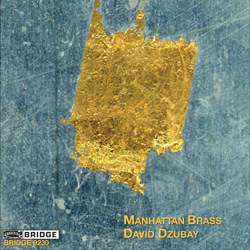 Bridge 9230 Manhattan Brass - David Dzubay
Wayne du Maine, Lew Soloff, Ann Ellsworth, Michael Seltzer, David Taylor