Brass Quintet
(1988)
Habanera
Variations
Currents
Rondo
duration: 16 minutes
Available from : Thompson Edition
premiere: Indiana Chamber Brass, Bloomington, IN, 1988
audio (arrowheads navigate tracks):
Program Note
This quintet begins with a habanera, the characteristic dotted rhythm played by the Tuba. The relaxed, almost drunken, quality of the habanera is contrasted with a fast, energetic middle section.
The second movement is a playful set of variations based on a theme of expanding (or contracting) intervals. The theme is stated by the horn at the beginning. Four variations of contrasting character and a short epilogue follow.
"Currents," the third movement, is built around the idea of oscillation and fluidity, much like a leaf fluttering in a gentle breeze. A recurring sharp punctuation balances this smooth motion.
The fourth movement is a rondo which alternates its new theme (a hocketing line, played with rapid interchange between the ensemble) with material from the first three movements.
Recording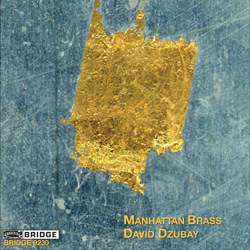 Bridge 9230 Manhattan Brass - David Dzubay
Wayne du Maine, Lew Soloff, Ann Ellsworth, Michael Seltzer, David Taylor