Chamber Concerto for Trumpet, Violin & Ensemble
(2016)
Déjà vu (passacaglia sospeso)
Rapprochement (intermezzo)
Détente(s) (scherzo)

instrumentation:
Fl/Pc, Ob/Ehn, T.Sax, Cl, Bcl, Bn/Cbsn - Hn, Trb, Tuba - 2 Perc, Pno - Va, Vc, Cb
solo Violin and solo Trumpet (+Flugelhorn, Piccolo Trumpet)

duration: 30 minutes
premiere, March 2, 2017 :
University of Connecticutt, Jeffrey Renshaw, conductor
Solomiya Ivahkiv, violin; Louis Hanzilk, trumpet

2nd performance, April 20, 2017 (below):
IU New Music Ensemble, David Dzubay, conductor
Simin Ganatra, violin; John Rommel, trumpet


Edited audio from recording session (draft edit of CD to be released in 2018):

Live performance - IU, April 2017:

Perusal Score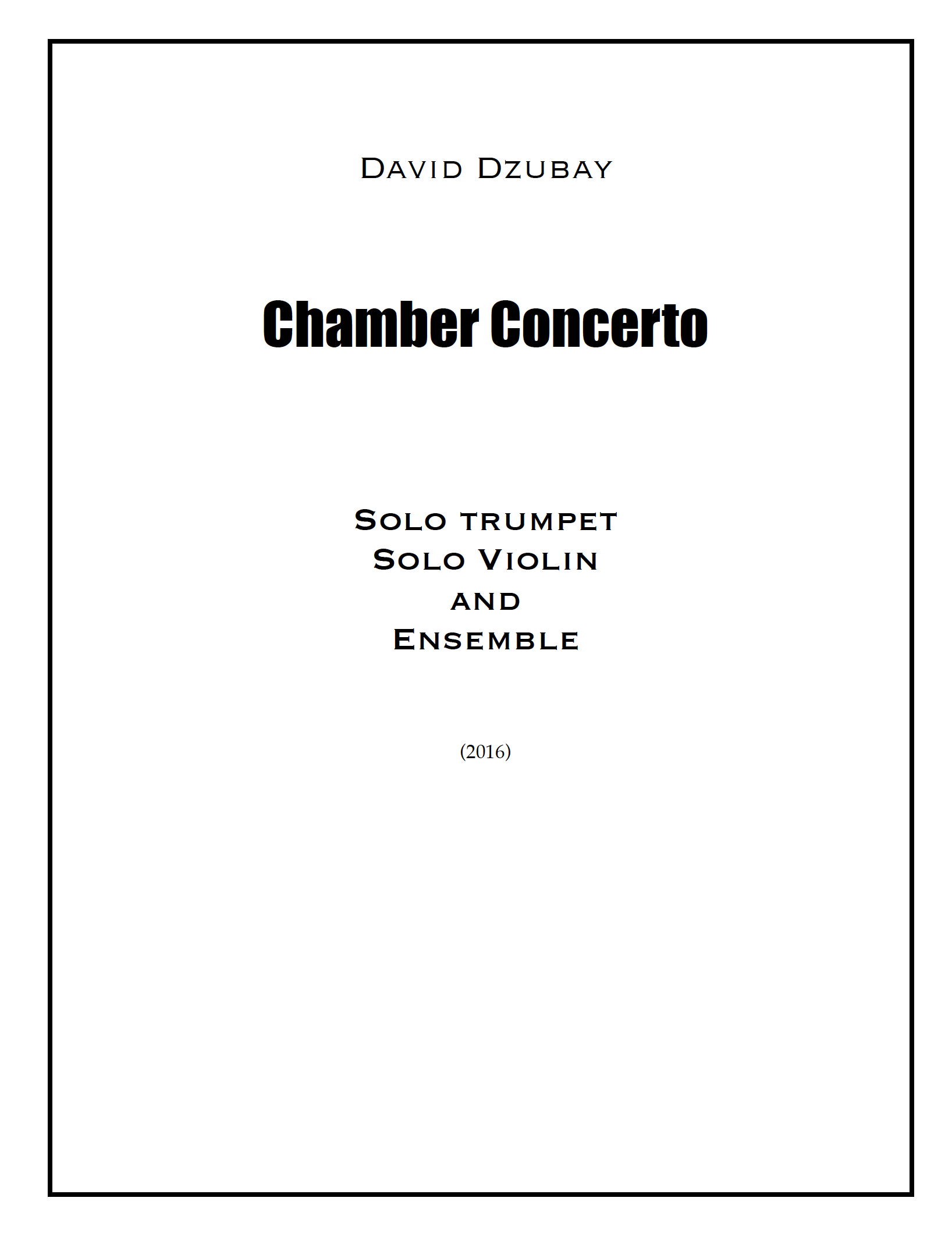 Set up:
Commissioned by the University of Connecticut as winner of the Sackler Prize
Program Note:
The working title for my Chamber Concerto was Rapprochement, which came about from imagining how I might make use of the unusual forces called for in the commission: namely, two soloists - a violin and a flute accompanied by a group of winds and percussion. I began working on a spatialized arrangement of the musicians, symmetrically placed around the stage in a way that various subsets of the ensemble could come to the fore and oppose or join forces with neighboring groups, ultimately leading the work toward a "harmonic convergence" of the entire ensemble – reaching a rapprochement and playing as a unified whole in support of the soloists. Indeed, much of this initial thinking found its way into the work, but as is often the case, a few changes came about while putting the notes to paper. First, I was asked to change the solo flute to solo trumpet. Being a trumpeter myself, I was happy to agree to this, and it actually added to the idea of competing forces balancing each other. At the same time, I asked if we might be able to add a few strings as comrades for the violin. All of this led to a revised but still symmetrical arrangement, with string and brass quartets at either side of the stage separated by a (neutral?) wind sextet and backed by a row of percussion and piano.
In working out some of the initial musical ideas, I made use of pitches derived through solfège from the soloist's names: Solomiya Ivakhiv (G - A - E - A - A - B) and Louis Hanzlik (A - C - G (or E flat) - B - A - A). Perhaps most easily heard might be the series of pitches for Solomiya Ivakhiv, which are indeed the first six pitches played by the violin and return prominently from time to time. As well, I asked Solomiya and Louis to send me audio recordings of them saying their names and transcribed the pitches as best I could from those recordings, which proved quite interesting. Solomiya's voice had an ornamental turn then lept up a major seventh before descending a tritone. Trumpeter Louis Hanzlik presented a bugler's tonic-dominant, descending, and I did end up using the resulting perfect fourth from Louis quite a bit.
The first movement, Déjà vu (passacaglia sospeso), is reflective of having the same discussions and events over and over, not learning from our mistakes. A nine-bar pattern is repeated many times, but always with some change in harmony or texture. This passacaglia is "suspended" for a slower, quiet interior section with more chromaticism and delicate orchestration, but ultimately comes back in increasingly wild variations.
I preserved the original working title of Rapprochement for the second movement, a mostly calm intermezzo with the two soloists generally working in agreement. A darker movement, the music is slower and lower, featuring low doublings in the woodwinds, the violin muted at times, and the trumpeter now playing flugelhorn. There are three key ingredients for this movement: a characteristic eighth-note accompaniment with staccato and slurred notes ('bup-baah-dup"), melodic writing featuring perfect fifths and neighbor tones, and glowing sounds.
The final movement, Détente(s) (scherzo), is the closest the music gets to a pitched battle, with the whole ensemble segmented in many different configurations. A fast, bright movement, the low doublings are gone, replaced by piccolo trumpet, open violin, and piccolo instead of flute sometimes joining the two soloists for a "high trio." Other internal trios are featured, again combining into larger groupings and leading to a climactic return and fuller realization of a progression from the first movement. A quiet reminiscence of the opening of the work leads to the concluding phrase.
David Dzubay (January 2017)