Fanfares on Re for Ray
(2005) for wind ensemble
duration: 8 minutes
grade level: 6
premieres: Indiana University Wind Ensemble, Ray Cramer, April 22, 2005
live performance audio:

Perusal Score
Program Note
These fanfares were composed to celebrate the retirement of Ray E. Cramer, after many outstanding years of service and leadership at the Indiana University School of Music, where he was on faculty since 1969 and was Director of Bands from 1982-2004.
Personally, I had the honor of playing under Ray Cramer in the 1984 IU Wind Ensemble tour of Japan, experiencing his musical, organizational and social skills first-hand. And like so many composers, I have had the good fortune of having music taken up by Ray. In 1990 he generously premiered a work I composed as a student, and since then has premiered three other works. In all cases, the musical leadership and personal integrity demonstrated by Ray Cramer has been exemplary. I am therefore honored and grateful to have been asked to compose this work for him by his family.
Fanfares on Re for Ray presents a series of short celebratory fanfares, each centered on the pitch D (Re). I initially planned the 'fanfares' to be rather separate entities, but as the work evolved it became a single through-composed piece, with ideas recurring in the various fanfares, or sections. The work develops from the introductory first fanfare, with wildly swirling textures but no pulse, through two 'bell' fanfares exploring central motifs, into a more traditionally thematic fourth fanfare followed by the concluding finale. The five fanfares, played without pause, are titled thus: 1) Swirls, 2) Bright Bells, 3) Dark Bells, 4) Echoes and 5) Kaleidoscope. It perhaps stretches the listener's (and composer's) imagination to suggest that the five fanfares are representative of the five decades during which Ray Cramer has been on faculty at IU, starting at the end of the 1960s, but there it is.
For those interested in musical building blocks, the principal (ubiquitous?) melodic idea in the work came from the letters in Ray E. Cramer's name, though I left the 'y' out, as no pitch name begins with 'y' in any language I know of! So, the melodic fragment used was DAECDAEED, and of that, mostly just the first five pitches, beginning and ending on D.
Recordings:
Mark Records 5888 MCD
Indiana University Wind Ensemble, Ray Cramer
Ray E. Cramer Retirement Concert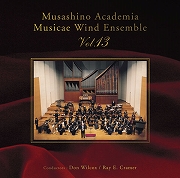 Sony SICC 422
Musashino Academy of Music, Ray Cramer
(unavailable in USA)
Instrumentation:
Piccolo
Flute 1, 2
Oboe 1, 2
Bassoon 1, 2
Eb Clarinet
Bb Clarinet 1, 2, 3
Bb Bass Clarinet
Eb Alto Saxophone 1, 2
Bb Tenor Saxophone
Eb Baritone Saxophone
Bb Trumpet 1, 2, 3
F Horn 1, 2, 3, 4
Trombone 1, 2
Bass Trombone
Euphonium
Tuba
Timpani
4 Percussion:
1: glockenspiel, xylophone
2: vibraphone, lg & sm suspended cymbals, snare drum
3: marimba, tam-tam, med. suspended cymbal, tom-toms (4)
4: tubular chimes, tam-tam, large bass drum
Harp (optional)
Piano
String Bass (optional)