Incantation
(1990) for wind ensemble
duration: 9 minutes
grade level: 5
premiere: IU Symphonic Band, Ray Cramer, March 26, 1991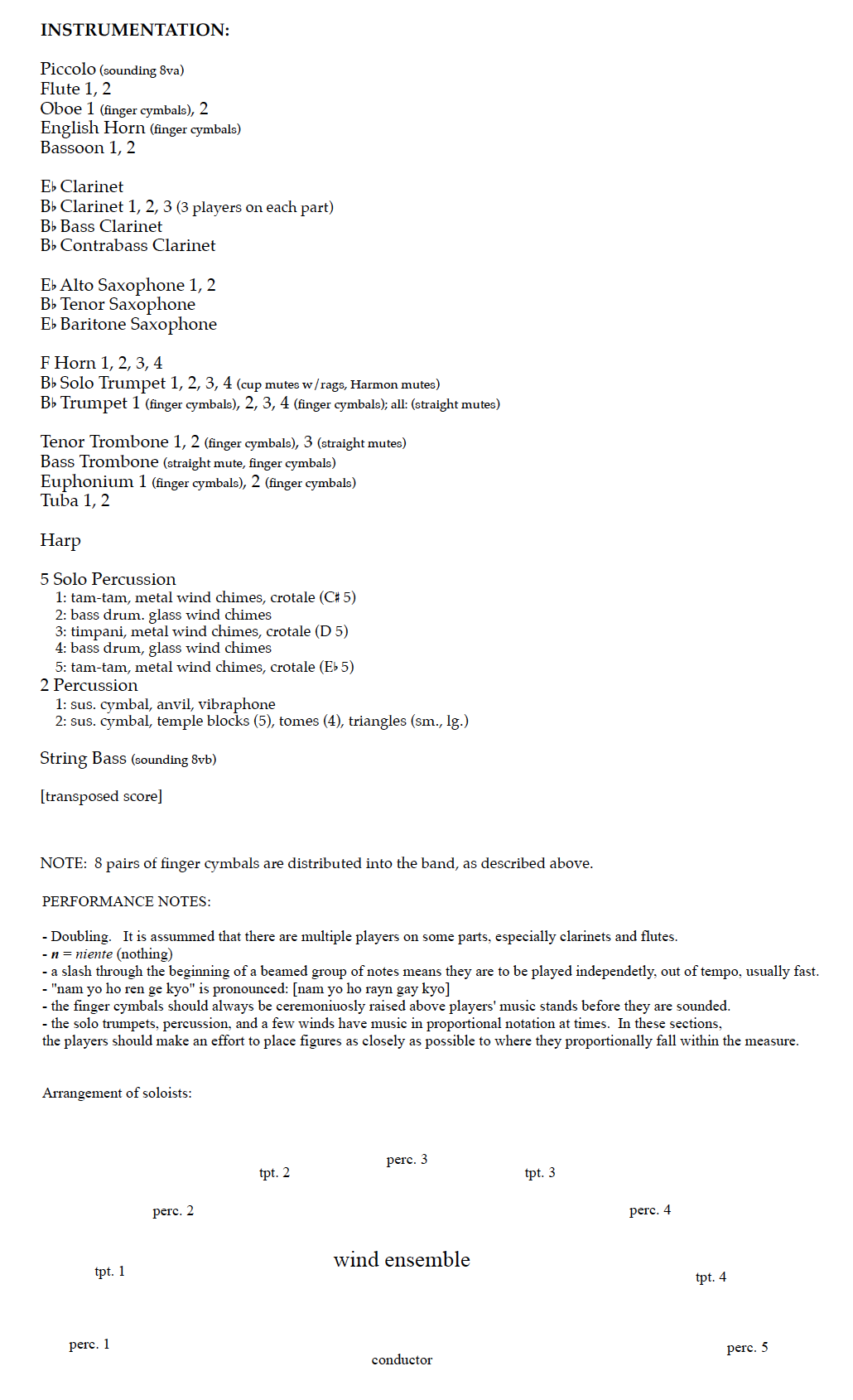 Commissioned by the Indiana University Symphonic Band, Ray Cramer, Director.
A newly engraved score and set of parts is available as of October 2016
Program Note:
Incantation presents nine minutes of music meant to conjure up images of rituals, ceremonies or liturgies. A spacial arrrangement adds to the sense of ritual, with a ring of soloists, five percussion and four trumpets, surrounding the ensemble. As well, eight wind players within the band are called on to play finger cymbals, and nearly all players are asked to sing, hum and chant; in particular, intoning the famous Buddhist phrase, "nam yo ho ren ge kyo."
The structural foundation of the composition is a talea, or repeating rhythmic pattern, in the bass drums. The talea gradually contracts from 43 beats in length at the beginning to 5 beats at the climax of the work. At the same time, the solo trumpets perform a series of fanfares that seem to be at first hoping for an answer, then asking and finally demanding a reponse. During the following long dissipation of energy, the talea expands once again to its original length, this time with the bass drums rolled rather than struck. The calming last third of the work is quiet and fluid, as if the riual's participants are in a hypnotic daze, recovering from the earlier drama, recalled only with a couple distant echoes of the trumpet fanfares.
(David Dzubay)
Perusal score: