Snake Alley
(1989, rev. 1998 & 2014) for orchestra
instrumentation:
3(2+a fl,3+pic).3(3=E hn).3(3=bcl).3(3+cbn)/4331/timp.4perc.hp.cel(pno)/strings
duration: 10 minutes
premieres:
1989 version: National Repertory Orchestra, Carl Topilow
1998 version: Eastern Music Festival, David Loebel
recording: Slovak Radio Symphony Orchestra, Kirk Trevor
Perusal Score

Recordings

Innova 634 American Midlife
Slovak Radio Symphony Orchestra, David Dzubay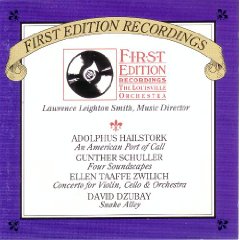 LCD009 First Edition Recordings
Louisville Orchestra, Lawrence Leighton Smith
Commissioned by and dedicated to Carl Topilow and the National Repertory Orchestra.
Supported in part by the Margaret Fairbank Jory Copying Assistance Program of the American Music Center.
Program Note
During the 1988 tour of Korea, Taiwan, and Japan with the National Repertory Orchestra, some of the musicians ventured into a bizarre market in Taipei called Snake Alley. It is not a place for the lighthearted but rather for the adventuresome soul interested in observing a part of a culture very different from one's own. The market is named for its many snake vendors, who have a variety of cooked, pickled and live snakes for sale. The most amazing ritual we observed began with a patron carefully selecting a live snake from a cage. The vendor would then take it out of the cage, playfully display it to the crowd, kill it with a quick tap of a hammer to the head, drain its blood into a glass, and hang the carcass from a string with the other chosen snakes of the night. Yes, then the patron would actually drink the snakes' blood. We heard two reasons for them doing this: for medicinal purposes, or to increase their libido before they visited the nearby brothels. Among the other things we observed were turtle vendors (I'll leave it to your imagination), a man with a playful orangutan entertaining children, many places to eat (if you had an appetite), weightlifting, gambling, priests asking for money, and any number of items to buy, such as ornate wall hangings and fans, imitation watches, and various unusual foodstuffs.
As I wrote Snake Alley, I thought of it as sort of an "American in Taipei." In a broad sense, the piece is a programmatic work, but I invite the listener to make his or her own associations between the music and specific images. My general thoughts on the piece are as follows (and are not totally foreign to my own experience there). It begins with a tourist taking a taxi ride from his hotel to Snake Alley. With the driving customs in Taiwan, this is thirty minutes not soon to be forgotten. The tourist simply has to abandon himself to the trust that the obviously confident driver knows what he is doing though it seems that sleeping in a hospital that night is a strong possibility. Not to worry. The tourist makes it to Snake Alley, but then just stands there in a daze for a while taking in all the colorful lights and people, not to mention recovering from the taxi ride. Slowly, he begins to wander around, still not comfortable with his surroundings, things seeming to sporadically jump out at him from all sides. Eventually, the tourist relaxes and begins to make his way through the alley observing the snake vendors and such. From this relatively calm state, musically represented by soft, repeating, punctuated chords supporting rather slithery, snake-like melodic lines in the woodwinds, the tourist becomes increasingly anxious about where he is and what he is seeing. The brass and percussion are featured in an exciting buildup and the tourist is quickly trying to get out of the place when he suddenly ends up right in the middle of all the brothels and the orchestra breaks into stripper music. He hurries away from the brothels and is quite surreally confronted by a priest and some children loudly singing a Taiwanese folksong. The overwhelmed tourist quickly finds a taxi and begins the equally exciting ride home. His mind becomes flooded in a nightmarish collage of all the images he has just taken in, but he slowly begins to relax as he returns to the safety and familiarity of his hotel room, falling asleep to the memory of the folksong he heard earlier. It seems that our tourist is about to have a restful night after all. (?)

---
Performances:
American Composers Orcherstra (Paul Dunkel), Ann Arbor Symphony (Samuel Wong), Arkansas Symphony (David Itkin), Aspen Festival Orchestra (James DePreist), Atlanta Symphony Orchestra (Darryl One), Baltimore Symphony Orchestra (David Zinman), Brevard Music Center Orchestra (JoAnn Falletta), Cincinnati Symphony Orchestra (Keither Lockhart, Jesús López-Cobos), Cleveland Institute of Music (Carl Topilow), Eastern Music Festival (David Loebel), Grand Rapids Symphony Orchestra (Catherine Comet), Indiana University Symphony Orchestra (Thomas Wilkins), Indiana University Symphony Orchestra (David Dzubay), Indianapolis Symphony Orchestra reading session (Orcenith Smith), Kansas City Symphony (Steve Smith), Louisville Symphony Orchestra (Lawrence Leighton Smith), Manhattan School of Music (Lawrence Leighton Smith), Memphis Symphony Orchestra (David Loebel), National Repertory Orchestra (Carl Topilow), New England Conservatory Orchestra (David Loebel), New World Symphony (Leif Bjaland), Oakland East Bay Symphony (Michael Morgan), Orchestra National of Mexico (Carl Topilow), Oregon Symphony (James DePreist) ,Oregon Symphony (Carlos Kalmar), Saint Louis Symphony Orchestra (David Loebel), South Bend Symphony Orchestra, Vancouver Symphony Orchestra (Sergei Commissiona, Samuel Wong), Young Musicians Foundation Debut Orchestra of Los Angeles (Jung-ho Pak)