Symphony No. 1
(1996, rev. 2009) for orchestra
Rage, rage...
...they dance their glories into shadow
...as filaments of memory spin...
instrumentation:
3(2,3+pic).3(3=E hn).3(3=B-cl).3(3=cbn)/4331/timp.3perc.hp.pno/strings

duration: 33 minutes
premieres:
Oregon Symphony, James DePreist
Oakland East Bay Symphony, Michael Morgan
Lousiville Orchestra, Robert Franz
live audio excerpts (arrowheads navigate tracks):
Perusal Score

Recording

Innova 634 American Midlife
Slovak Radio Symphony Orchestra,Kirk Trevor (cond.)
(mvt. III only)
Symphony No. 1 was commissioned for James DePreist and the Oregon Symphony on the occasion of its Centennial, the Louisville Orchestra, and the Oakland East Bay Symphony, and was made possible by a grant from the Meet The Composer/Reader's Digest Commissioning Program, in partnership with the National Endowment for the Arts and the Lila Wallace-Reader's Digest Fund.
The cover art is by Melissa Thornburg, who kindly gave permission to reproduce this excerpt from her "Watercolor Memorial" to Richard.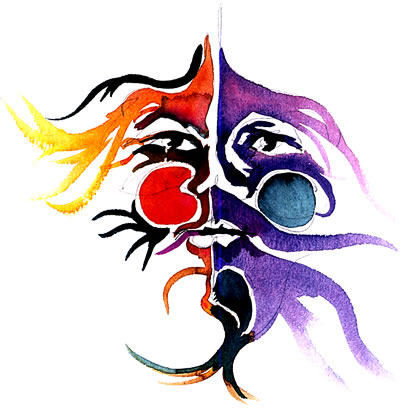 Program Note
During my high school years in Portland, Oregon, I was fortunate to know three exceptional human beings, all of whom taught music at Jefferson High School, and all of whom died at young ages: Sonny King (jazz saxophone), Dee Wiggins (percussion), and Richard Thornburg (trumpet). Not only were these men superb musicians and teachers - they were absolutely three of the most gentle, unselfish, and kind people I have known. This music has been composed in memory of these three good friends. Though the symphony as a whole is a reflection on the life and death of allthree men, there is a particular association for each (I - Dee, II - Sonny, III - Richard), which is reflected in the character and orchestration of each movement.
The first movement, Rage, rage..., features the percussion section much of the time, often with them playing versions of a rhythm resulting from the declaration: "Sonny King, Dee Wiggins, Richard Thornburg."
This thematic rhythm pervades the entire symphony. The rather angry character of the movement hardly reflects that of Dee Wiggins, but the aggressive drumming, often in streams of sixteenth notes, is perhaps reflective of Dee's playing in his funk band, Velvet, which I played trumpet in for one year. The movement is framed by two presentations of a sustained, tutti, contrapuntal section, the first of which is a rather frantic, shocked reaction to hearing of a death, and the last being a final anguished cry of grief. Once the music calms down a bit, about three minutes into the movement, the first trumpet presents three increasingly demanding statements (not unrelated to Ives' famous question), as if to ask "why?!" This second quarter of the movement reflects a mix of emotions and has a number of changes in tempo and orchestration. The tempo doubles around the midpoint, and after a brief period of calm, the movement builds to explosions of rage leading to the final cry.
Sonny King was a vivacious, hilarious, and inspirational man who played saxophone and worked with our jazz improvisation groups at Jefferson. Sonny seemed to know, before I did, that composition might become an important part of my life and provided some early encouragement in that direction. The second movement, ...they dance their glories into shadow, is a playful scherzo which features the woodwinds and uses a number of elements from jazz, including part of the chord progression from Charlie Parker's Donna Lee. Another 'found' source is a Gagliarda by Johann Hermann Schein (1586-1630), fragments and variations of which are used as basic material throughout the movement. Following the introduction and binary body of the movement (five sections in each part), is a coda in which the Gagliarda clearly emerges before dancing off into the shadows as the movement ends.
Schein's Padouana from the same suite is referenced in the final movement by the piccolo solo and by the cadential pattern at the climax. (Our high school brass quintet frequently performed these Schein dances). ...as filaments of memory spin... was inspired by memories of Richard Thornburg, a former second trumpet in the Oregon Symphony whose beautifully warm tone, lyrical playing, and gentle spirit were daily inspirations throughout high school. Mr. Thornburg practiced Tai Chi, and the idea of balance became important in this movement in a number of ways, not the least of which is having a slow movement to balance the previous two. Also 'in balance,' are most of the important events in the movement, each having three presentations: offstage trumpet calls, 'sighs,' 'swirls,' mensural canons, a melodic lament, and a scalar, diatonic phrase. The offstage trumpets play a fusion of earlier material and one of Mr. Thornburg's favorite melodies, The Last Rose of Summer, which is clearly revealed in the final, most distant call.
James DePreist provided the impetus for this Symphony, and it was composed for the Oregon Symphony and Maestro DePreist, whose support and encouragement over the years is greatly appreciated. The subtitle for movement I is from "Do not go gentle into that good night," by Dylan Thomas. James DePreist's poems, "Somehow we can" and "Its luminous links," found in The Distant Siren, provide the subtitles for movements II and III.