Trio
(1992) for violin, cello & piano
courageous
wistful
vehement
duration: 16 minutes
premiere: Stony Brook Contemporary Chamber Players, Columbia University,
                                         Katherine Bache Miller Theatre, New York, April 3, 1993

audio (arrowheads navigate tracks):
Recording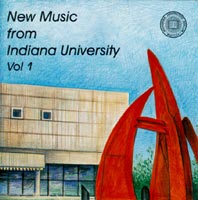 MS0000005 New Music from Indiana University - Vol 1
Indiana University School of Music New Music Ensemble
Mark Menzies, Violin; Jennie Lorenzo, Cello; Jeremy Denk, Piano
Program Note
This work was commissioned by the Stony Brook Contemporary Chamber Players and funded by a grant from the National Endowment for the Arts.
One of the first notations in the sketches for my Trio is an eight-beat rhythmic pattern which alternates between duple and triple subdivisions. This rhythm owes much to Varse, though its use more closely resembles Berg, particularly his 'invention on a rhythm' from Wozzeck, in that it is used in various augmentations and in canon. Much of the pitch material in the work is derived from a tetrachord which is the first sound the strings make (D, C#, A, G). Both the rhythm and the tetrachord are used prominently in each of the three movements. In fact, there are other similarities between the movements, though each has its own distinct tempo and character. The outer movements are clear ternary forms, the first A-B-A', the third A-B-C. The second movement is through-composed, but has a return at the end. Also, a lyrical counterpoint between violin and cello is used in the middle sections of each movement.
The first movement has the bravura quality of a fanfare, with many quick flourishes and repeated articulations. The second movement is for the most part very quiet, with a bleak, sparse atmosphere. The last movement is the most substantial, working from quite fragmentary gestures towards longer, goal-oriented sections, always with intense determination.