Wintu Dream Song
(2017)
duration: 7 minutes
Instrumentation: string orchestra
premiere: National Symphony of Costa Rica; Eddie Mora, conductor; June 22, 2017
Perusal Score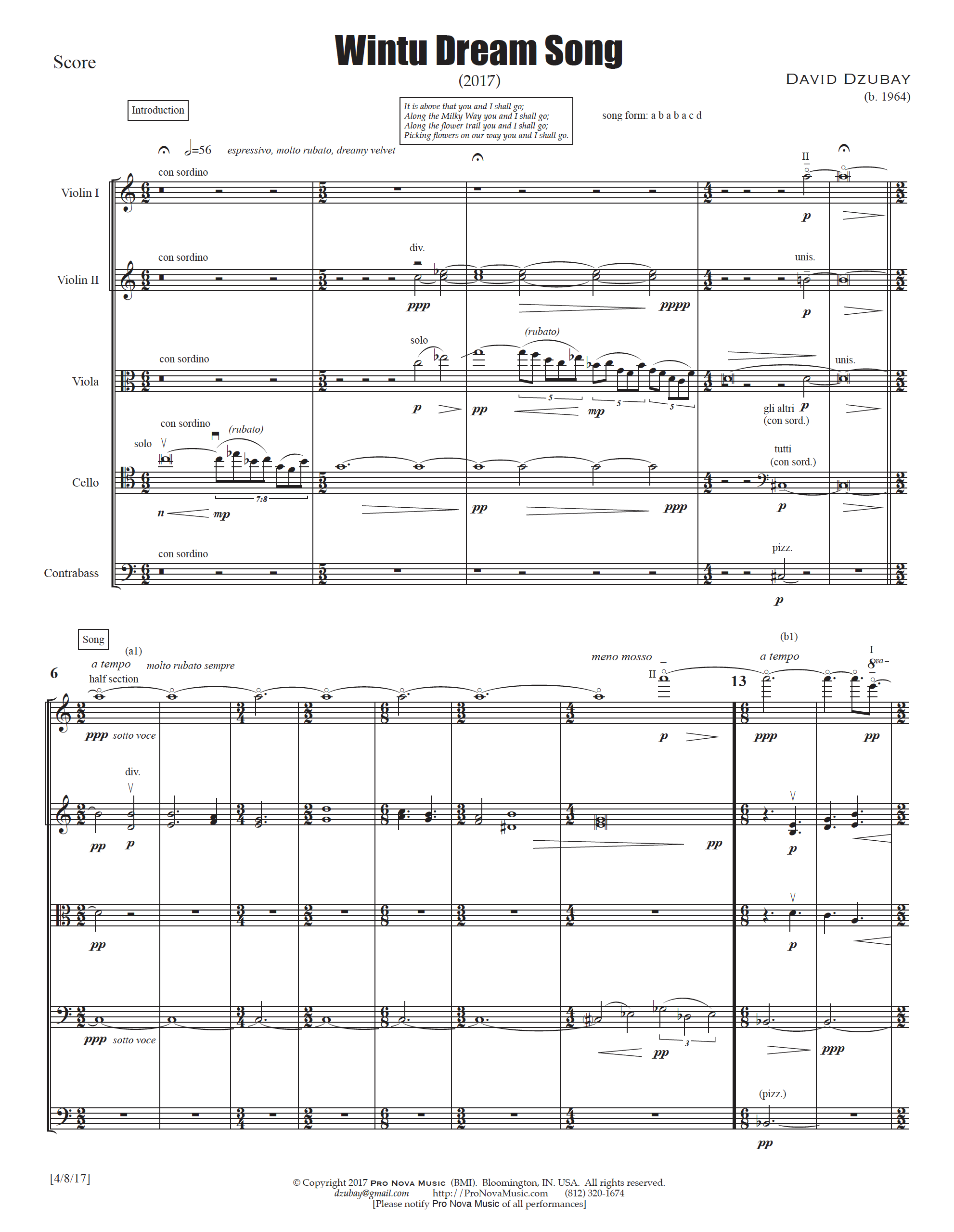 Program Note
Wintu Dream Song sets a Native American funeral song text of the west coast's Wintu tribe:

It is above that you and I shall go;
Along the Milky Way you and I shall go;
Along the flower trail you and I shall go;
Picking flowers on our way you and I shall go.

After an opening incantation by solo cello and viola, the song is heard twice. The first presentation has some counterpoint and varied orchestration, and it doesn't quite finish, with the final phrase diverted to a short interlude ending with a violin solo. In the song's repetition, the texture is chorale-like, with everyone moving
together and the harmonies gradually thickening, but the song ending is again thwarted, dwindling away unresolved. A short epilogue follows, presenting a fragmentary recollection of the song's first phrase accompanied by pizzicato bell-tolls and leading to a full cadence.
The top voice is fairly repetitive and tonal, closely following the text. One might almost be able to sing along the second time! Though the notes of the top line repeat almost exactly, the harmonies below are different with every phrase, creating a variety of expression.
This music was originally composed for chorus in 2004, then re-worked into movement four of String Quartet No. 1 in 2008. This string orchestra version was composed for Eddie Mora and the National Symphony Orchestra of Costa Rica.
David Dzubay, April 2017