Threnody
(1987, rev. 1993) for string quartet (or string orchestra)
after Josquin's Mille Regretz
duration: 7 minutes
premiere: Indiana University student quartet
recording: Alexander String Quartet, Innova 111
recording: Voices of Change, innova 588
Perusal Score
Program Note
Threnody is a parody, in the respectful sense of a composition based on an earlier composition, of Mille Regretz, a hauntingly beautiful chanson by Josquin des Préz (1440-1521). Josquin's chanson provides the framework for this short lament. Around this frame, I have created my own musical statement using interruption, layering, contrast, repetition and variation. Though composed in the summer of 1987, in May of 1993 I made a few slight revisions to the work and also wrote a version for string orchestra that was commissioned by the Music at Maple Mount Festival.
Recordings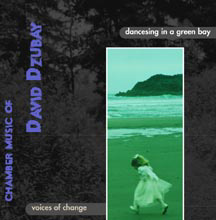 innova 588 dancesing in a green bay
Chamber Music of David Dzubay
Voices of Change (C. Schadeberg, M. Schleuning, Jo Boatright,...)
(available on iTunes)

Innova 111 Sur Pointe
Alexander String Quartet
(available on iTunes)
Text of the chanson:
Mille regretz de vous habandonner
Et d'eslonger vostre fache amoureuse,
Jay si grand dueil et paine douloureuse,
Quon me verra brief mes jours definer.

A thousand regrets at deserting you
and leaving behind your loving face,
I feel so much sadness and such painful distress,
that it seems to me my days will soon dwindle away.