Capriccio
(1998) for violin and piano
[Newly edited in Feb., 2006]
duration: 10 minutes
premiere: Corey Cerovsek (vn) & Shigeo Neriki (pn), February 20, 2000
recording; Corey Cerovsek (vn) & Shigeo Neriki (pn), IUSM-13
Scrolling score version:
Perusal Scores
Program Note
Capriccio was composed for violinist Corey Cerovsek, whom I met in a music history class in 1986 and shared involvement with in an orchestral program Indiana University took to Paris in 1989 – he playing a concerto and my Siren Song being performed. It took another nine years, but I finally wrote Capriccio, which he premiered along with pianist Shigeo Neriki. Thankfully, the piece has been taken up by other talented duos, including Ben Sung & Jihye Chang, Maria Schleuning & Jo Boatright, and most recently by Linya Su & Blair McMillen.
My Capriccio has many of the standard attributes of other capriccios - contrasting textures and moods, unexpected chromatic twists, repeated sections, and just a certain capricious flow. Alternating between three cadenzas and three allegros, Capriccio is built out of a rather simple and ubiquitous motive based on pitches derived from the letters in Corey Cerovsek's name: C-D-E-C-E-D-B-E. Initially presented in the first cadenza (with some elaboration), the theme permeates all the other sections, thus the work is a loose set of variations. Despite all the chromatic twists and turns, I am going to still claim that Capriccio is in A minor.
Recordings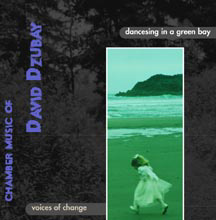 innova 588 dancesing in a green bay
Chamber Music of David Dzubay
Voices of Change (Maria Schleuning, Jo Boatright)

IUSM-13 David Dzubay, Chansons Innocentes
Corey Cerovsek, violin; Shigeo Neriki, piano
coming soon: a new recording with Linya Su and Blair McMillen